Yes, you read the title correctly. Owing to circumstances beyond my control, I will never be able to write to this, or any, blog ever again. It's not that I don't want to, far from it. Nor is it that I don't have the time to, though that's been the reason for no recent posts in a slurry of time-consuming work that will shortly be alleviated. If it were up to me, I'd carry on spouting poorly written polemics on technology, literature, religion and other such stuff for the three of you that ever read this damn thing for the rest of my days. Sadly, it's not up to me…because, well, you see…
The world is going to end.
Yes, I will never be able to write in this blog again because the rapture is coming. According to Christian radio host, self-appointed Biblical scholar and dehydrated Kenneth Williams lookalike, Harold Camping, has announced that the Bible predicts, indeed guarantees that the rapture will occur on May 21st 2011. This Saturday, as it happens, so good to see the Big Guy is doing it on the day when everyone's off work.
The rapture, according to Christian mythology, is the time when Jesus Christ will return to earth (making his "sacrifice" even more worthless in the process) and summon all the good and righteous Christians to take them away to the magical theme park in the sky. Common imagery of this event depicts piles of clothes being left behind, which both makes God a lecherous old bastard as well as meaning that there will be a lot of well-dressed hobos around after May 21st.
Meanwhile, all us sinning atheists, gays/lesbians, Muslims, Hindus, evolutionists and ducks will be left behind to bask in the horrible world without Christianity, wouldn't that suck! Turns out it would, because God's field-trip for all the good boys and girls will let demons and monsters and Jeremy Beadle into the human realm; as though Jesus was the sphincter of the H. P. Lovecraft universe. Us sinners will be tortured and tormented for a couple of months, before the sadistic Dumbledore in the sky finally hits the delete button and ends it all, according to Camping, on October 21st 2011.
Why does this mean this is my last blog post? Well, presumably if Harry is right I'll be spending the next five months or so running like fuck and probably won't have the time or motivation to take the piss out of religion.
And why wouldn't Harold Camping be right? I mean, he's studied the Bible closely, he found God's hidden code and drawn out only one possible date, verified throughout scripture that this date, May 21st 2011, was the day of the rapture. It's not like he pulled the same stunt and found out the rapture would occur 19 years ago and turned out to be wrong on that.
Ah.
Yep, Harry worked out the date of the rapture before, gathered up anyone stupid enough to believe him and spent months loudly proclaiming it to be so. When the world didn't end when I was 18 months old, Camping chalked it up to a mistake on his part. Well, at least he took responsibility personally rather than trying to claim that God overslept that day or something.
Of course, I'm not even going to entertain the ludicous notion that this might actually be true. So it'll be interesting to see if, unlike last time, when this rapture inevitably fails to occur, will the Campingites (yes, that's what they're calling themselves) spend as much money putting out a retraction, making apologies and publicising their mistake as they have to promote Judgement Day?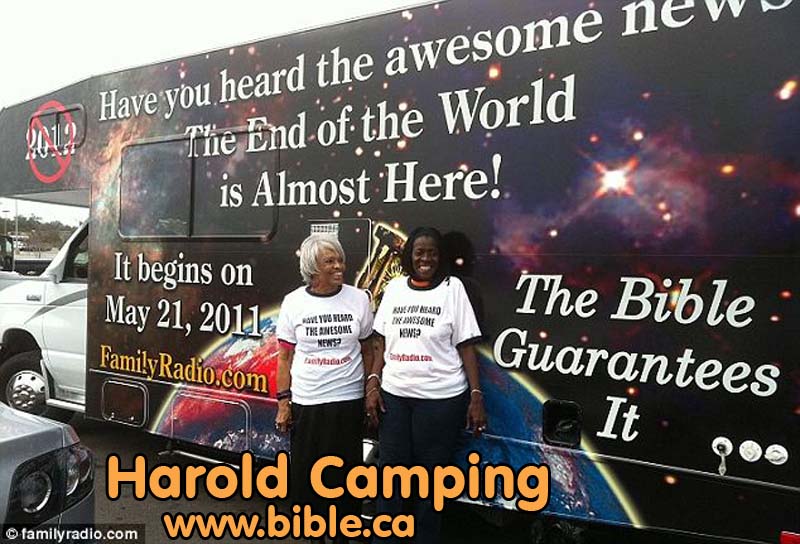 I hope the end of the world does come on Saturday, firstly because I've still got exams to do, but mostly so that we can spend five glorious months without these morons around.
Bliss.