From just a cursory glace at the smartphone market as it currently stands, it's pretty clear that 2012 will see handsets judged by the features of the operating system far more than the unholy abomination of plastic and glass it happens to have been stuffed into.
Microsoft and Nokia have less than stellar track-records in this arena. Microsoft's 'Windows Mobile' platform was already pretty antiquated when Apple's iPhone first came out, and failed to capture the imagination on the fledgling smartphone users with its clunky, productivity-oriented design. Its rebranded 'Windows Phone 7' has taken the last few years to mature. Meanwhile, Nokia's staunch refusal to budge from imbuing their blowers with their own software until as late as 2011 very nearly signalled the death knell for them. Can the union of two former titans, incarnate as the Nokia Lumia 800, succeed where neither could alone?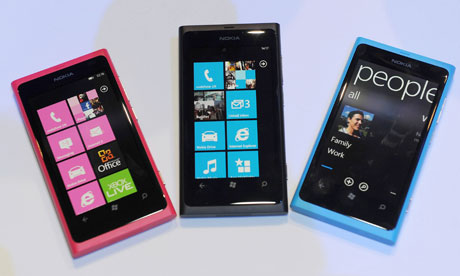 The first thing you'll notice is that the Lumia 800 looks almost identical to HTC's crop of Windows Phone 7 handsets. That's because Microsoft only licenses out WP7 for devices that meet certain hardware requirements, such as three touch-sensitive buttons on the front. Uniquely, though, the Lumia's gorilla-glass screen is embedded in an injection-moulded polycarbonate body; though this deprives the phone the slenderness we've come to expect from smartphones, it does make it feel much more durable and stalwart. Our review model is a neatly understated black, but in true Nokia style it also comes in a range of gaudy fascia colours, such as sky cyan and tepid pink.
On top you get the microSIM slot, 3.5mm headphone jack and a rather flimsy cover for the USB port. The right edge houses volume rocker and buttons for power and the camera, whilst the bottom seats the microphone. Around the back, you get a pretty decent Carl Zeiss camera and flash, though it lacks a front-facing camera. The screen is a gorgeous 3.7-inch AMOLED display with a 252 ppi resolution. The handset comes with a rubber case that, thankfully, doesn't add much bulk to its already stocky form. Though since the Lumia itself looks like it could take a beating or six it's probably not necessary. But still, having some padding between your phone and the ground never hurts.
The Lumia comes pre-loaded with the 'Mango' blend of Microsoft's 'Windows Phone 7', which will be the standard install on every WP7 handset from hereon in. Since this is a review of the Nokia Lumia 800, whereas WP7 will be present on an increasing number of handsets in the coming months, we won't go into too much detail about the OS here. Instead, we'll be bringing you a full review of the Windows Phone 7 software itself later in the term. For now, we'll just say that it's refreshingly different and fully customisable homepage is a delight to behold, and made finding specific app tiles a breeze. Though the home screen has been sinfully underused (such as no signal indicator or quick-access to connectivity options) and the only browser option is the always dejecting sight of the Internet Explorer logo, it is otherwise a very well-designed and very usable interface. The app marketplace for WP7 is a tad lacking at the moment due to the relative infancy of the OS, but that looks set to change and the more popular apps are already there. For the Lumia's part, the interface between hardware and OS has clearly been thoroughly tested and is seamless.
Nokia have always had a love of tacking their own software onto their handsets, far more than the users do, and haven't let the Lumia 800 escape their tinkerings. 'Nokia Drive', 'Nokia Maps' and 'Nokia Music' are three pre-installed apps that distinguish this phone from its HTC cousins.
'Nokia Music' is a fairly unremarkable music hub, combining streaming with local files and a store that has to not only fight off music-monolith Spotify (available from the App Marketplace) but also Microsoft's own Zune software that comes pre-installed too. Not great co-ordination there.
'Nokia Maps' is, oddly enough, a map. Once again, Nokia have bundled this very basic application into the WP7 software that itself already comes with a far more sophisticated and feature-rich map app.
'Nokia Drive', on the other hand, is a unique addition to the handset and provides free turn-by-turn Satellite Navigation. Feature-rich, detailed displays and utilising the GPS receiver rather than hog your data allowance with 3G, this is definitely a nifty add-on. Although, we did notice that 'Nokia Drive' ran down the battery pretty rapidly, so you may want to buy an in-car charger if you're planning to use the Lumia for a lengthy voyage.
As mentioned, the Lumia 800 lacks a front-facing camera and this was a massive disappointment for us. With the WP7 Skype app just around the corner, Nokia could've used this chance to add one more killer feature to the device. The flap covering the USB port, which opens by a peculiar mechanism of applying pressure to the hinge, seems almost destined to snap off over the phone's lifespan.
Battery life is contentious. Just after it hits the shelves it was subject to a storm of criticism over a bug that gave the phone a battery life of about eight seconds, but our review model managed a comfortable 36 hours of moderate use straight out of the box. When the update purported to fix the legendary battery glitch descended, the practically clockwork lifespan of the battery became a mercurial mess. At times it would struggle to eke out 8 hours but at others it would nearly reach its former glories. Having turned off a few pertinent battery-intensive features, we've managed to get an average life approaching 40 hours. It's also worth noting that, due to the one-piece polycarbonate shell, the battery is not user-replaceable.
The Nokia Lumia 800 is a great leap forward for both Microsoft's Windows Phone 7 software and Nokia's modernisation of their smartphone offerings. It's by no means perfect and that's probably why the follow-up Lumia 900 has already been announced for imminent release; which will feature the front-facing camera lacking on its predecessor and more colour variety. If the 900 gets a UK release, then by all means hold out for that; but if you can't wait then the 800 will serve you very well.