The Time Lord(s) returned to television last night in the first episode of the second half of the sixth series (phew). Having finally dropped the bombshell of the identity of River Song, now Steven Moffat gets to have some fun with the character. Oh, and Hitler's there too.
First, let's talk about Hitler. His fleeting cameo appearance was a mixed blessing. On one hand, it was good that they didn't try and make an entire story out of it, having him in a 45-minute episode simply as puppy-stomping evil would've been boring, and if you try and show any character development you risk appearing to redeem Hitler. On the other hand, what an idea for a story! Though, as much as I would've liked to see a full story made out of this, and kudos to Moffat for taking the risk, it would've managed to piss somebody off, so better leave it alone.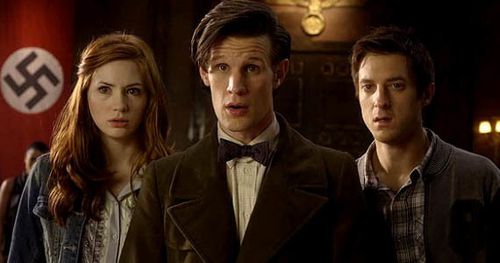 On the Eleventh Doctor's sudden attainment of the greatcoat, it'll probably grow on me in the end but I don't like it at the moment. Long, sweeping coats are a heroic staple as we've seen with Neo (of 'The Matrix'), the latest incarnation of Sherlock Holmes (a character at present owned and operated by Moffat), Captain Jack Harkness and the Tenth Doctor; but the point is that they've been done to death by Doctor Who. When we saw that Matt Smith's costume consisted simply of a tweed suit jacket, I thought that'd be a great chance to redefine some of the hero stereotypes. After all, how many superheroes do you know wear tweed jackets and bow-ties? Rather than going along with the trends, Doctor Who should be showing us why it's been so influential and set the trends. Sherlock Holmes suits the coat, as does The Doctor, but since Moffat's other show, Sherlock, uses it you would think that he'd noticed the recurring heroic themes. But that's my only real qualm with the coat, I'll probably get used to it and eventually want my own soon enough. Nerds, like Facebook users, quickly grow accustomed to change (sometimes).
The ongoing saga of River Song is, I have to admit, shattering my expectations. I certainly never expected they would show the regeneration of Melody Pond into the 'River Song' incarnation. But the idea that an earlier incarnation of Melody Pond knocked around with Amy for her entire life, going to school and hearing stories about The Doctor, seemed odd to me. Why would a child who was trained and raised to kill The Doctor, be content to spend 20 or so years with her mother at a young age rather than actively seeking out The Doctor. I suppose you could argue that regenerating into a young kid (evidently human/time-lord hybrids age normally) meant she was at a disadvantage, but that's not just being a sleeper agent, that's downright lazy.
Though I like seeing the story of River Song unfold, at the same time the limitations of telling an story onscreen will always be poignant. It's the same reason why Doctor Who should never show the events of the Time War, because for all it's glory and scale and tragedy, it could never live up to the expectations we have with the limitations of a special effects budget. If it's going to be chronicled anywhere, it should be in spin-off novels where the imagination of the writer and the reader are unbound. So too should it be with the story of River Song, at least as far as origins.
I do, however, hope that we see earlier versions of Melody, possibly as the little girl seen in earlier episodes, as some sort of sinister antagonist who is shown to repeatedly try and kill The Doctor, whereas the older Melody is the River Song we know, I thought this would be a good way to seperate out the two personas. However, given that "Mels" met The Doctor for the first time here, it wouldn't be possible within continuity, but there are ways around that.
Oh yeah! I mentioned in my series break review that The Silence turning out to be a species was disappointing, and that the only way it could be threatening would be if we were shown an identifiable villain. Now we learn that The Silence is actually a religious order out to take out The Doctor, and with that the mystery is restored. I love it!
Other than that, the story was a beautifully paced, competently acted and massively enjoyable story. Showing the Amy/Rory thing where she thought he was gay before they got together was a cute moment, and showed how influential Melody had actually been in their lives. But I do hope that Amy doesn't take the whole "maternal like relationship with a schoolfriend who it turns out to be your daughter" thing as a good enough replacement for actually raising her daughter. I suppose the timelines now effectively forbid it, but still. Maybe when Karen Gillan finally elects to leave Doctor Who, there'll be some massive deus ex machina that will rewrite history and allow Amy to be reunited with her infant daughter to live a normal life, maybe serving as a good exit for River Song also.